IT BOILS DOWN TO PERSONAL PREFERENCE
The decision has been made, you go on a safari! If Ximuwu safari lodge is your only safari destination you don't have to worry too much about your suitcases or bags, the connecting flights from Johannesburg and Cape Town do have a weight limit of 20 kgs in Economy class and 30kgs in business class, however excess baggage can be purchased at the ticket counter. However no bags heavier then 32kgs are accepted and must be shipped separately as cargo. In 2023 an extra kilo of luggage over weight limit with is ZAR 33 (2USD) plus 15% VAT. (Airlink)
If you like to visit other Game Lodges as well and you like to make use of private chartered flights please keep in mind that these airplanes are small and restrict often the luggage to 20kg and 5kg of hand luggage packed in soft bags.
But what to pack? First and for all look at our weather chart and find out in what season you travel.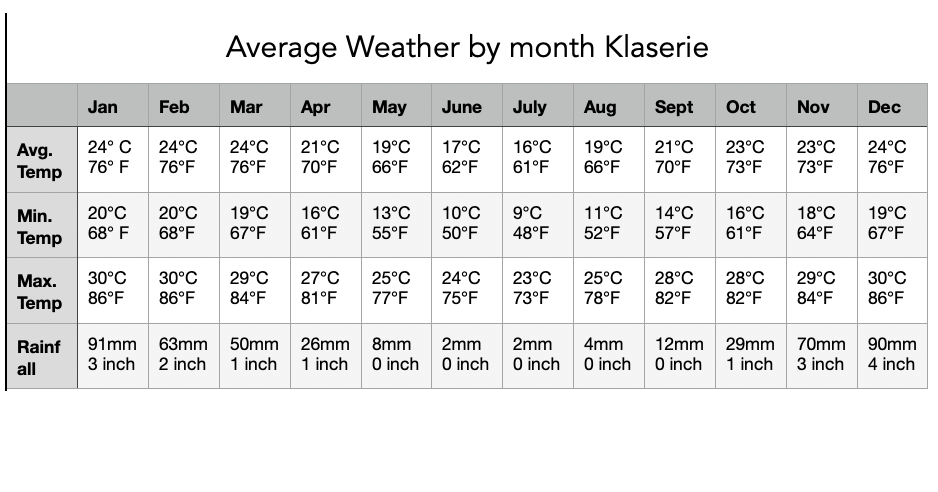 In our summer period, October until March it is quite hot, if you like short trousers and or skirts please pack these but in case you come from May until September make sure to also pack something warm. A Bini in winter is comfortable the first couple of hours. If you're going on a safari, it's important to pack light and bring appropriate clothing and gear for the conditions you'll encounter. Here are some essential items to consider packing:
Clothing: Lightweight, breathable clothing in neutral or muted colors is recommended, as it will help you blend in with your surroundings and not attract unwanted attention from wildlife. At the same time there is nothing wrong wearing t shirts and jeans. Long-sleeved shirts, long pants, and a wide-brimmed hat are also recommended to protect you from the sun and insects.
Footwear: Comfortable, closed-toe shoes or boots with good traction are a must for walking safaris and game drives. Make sure they're broken in before you go. After a day in your safari boots you also need a pair of sandals, flip flops or slip-on shoes to wear around camp.
Sun protection: Sunglasses, sunscreen, lip balm, and a hat are all important to protect you from the harsh African sun. A reusable water bottle will be made available to you and is yours to take home afterwards.
Insect repellent: Mosquitoes and other biting insects can be a nuisance therefore Ximuwu provide insect repellent containing DEET or a similar ingredient around the lodge in your room and on game drives.
Binoculars and camera: a pair binoculars are essential on a safari, either bring your own or use ours, we have a pair of Vortex binoculars on every seat row in our Gameviewer and at the lodge we have a Swarovski scope for you to use.
6. Camera equipment, are you a keen photographer, bring your camera with a zoom lens (100-400) for getting a closer look at wildlife and capturing memorable moments. Don't forget memory cards, batteries, charger and storage disks.
A book, an e-reader or some magazines, the lodge has Wifi so downloading is also possible.
Medications and first aid: First make sure your medical insurance is in order including medical evacuation. If you are in normal health condition a trip to Africa shouldn't be a problem, otherwise consult your health practitioner for advice.
Vaccinations, please ask your local authorities for complete advice as different countries advice different vaccines but please be advised that South Africa requires a yellow fever vaccine if you have visited or transited through a yellow fever risk country.
Malaria does occur so we strongly recommend the use malaria prophylaxis ask your physician or the travel clinic for advice. Bring any necessary prescription medications and supplement it with anti diarrhoea and a bug bite relief product.
The drinking water in the rooms and lodge are all treated by our Reverse Osmosis plant and checked frequently but sometimes the change in temperature can be enough to deliver tummy discomfort. The lodge and Gameviewer are both equipped with first-aid kits.
Ximuwu has a small curio shop with Ximuwu branded hats, caps, shirts and Jackets as well as basic usb chargers, cables, standard memory cards, suncream and lip balm.
social media
The Latest from Instagram