IT BOILS DOWN TO PERSONAL PREFERENCE
Ximuwu's all-inclusive African safari package is the perfect way to experience the beauty and wonder of the African bush. With all game drives included, you'll have the opportunity to see the Big Five and other African wildlife up close in their natural habitat. Our knowledgeable guides will make sure that you have a truly unforgettable experience.
If you're looking for a different kind of adventure, Ximuwu offers bush walks, giving you the chance to explore the African bush by foot. Discover the smaller wonders of the African bush up close with our experienced guides. And for those who want to experience the bush at night, our sleep out deck is an opportunity to do just that. Spend a night under the stars in the heart of the bush, surrounded by the sounds of nature.
At Ximuwu, we believe that great food is an essential part of any safari experience. That's why we offer three meals a day, always in different settings. Whether you're enjoying a bush breakfast as the sun rises or indulging in a bush dinner as the sun sets, our chefs will prepare delicious meals that showcase the flavors of the African bush. We also offer haute cuisine and street food, always accompanied by carefully selected wines.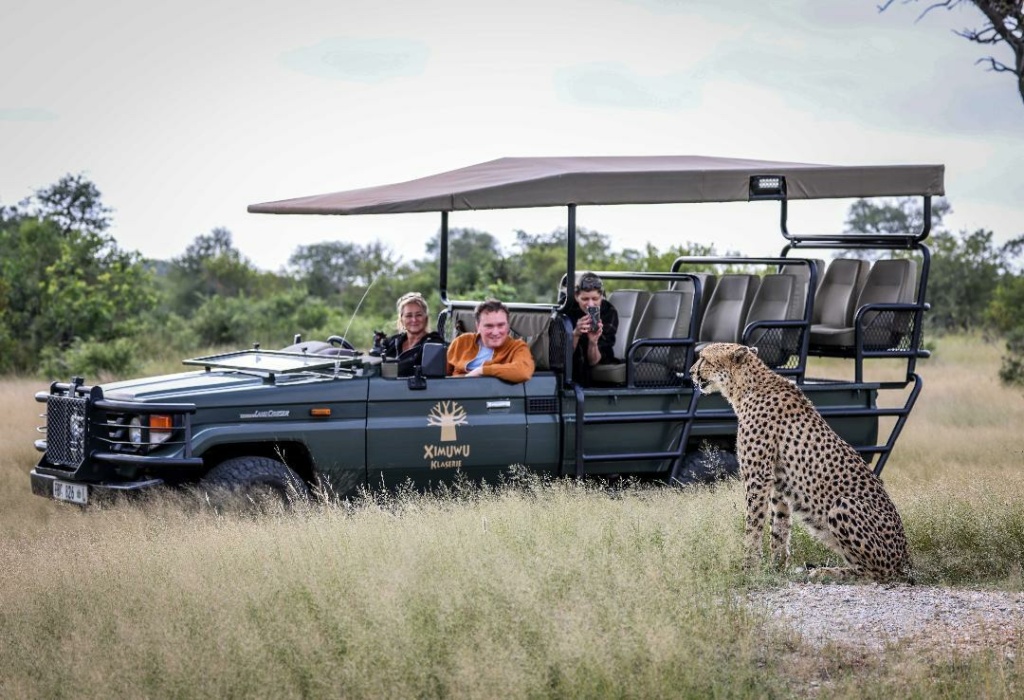 If you're looking for something truly unique, Ximuwu has you covered. Take to the skies with our scenic helicopter flight and see the beauty of the African landscape from above. Or, if you prefer to relax after a game drive, indulge in a one-hour spa treatment.
At Ximuwu, we're committed to responsible tourism, working closely with local communities and conservation organizations to ensure that our presence has a positive impact on the environment and the people who call this beautiful land home. We're also dedicated to providing our guests with the best possible experience, which is why we offer free use of our photographic hides. Get up close to the wildlife without disturbing them, and capture stunning photos to remember your African safari experience.
In conclusion, if you're looking for an all-inclusive African safari that includes everything you need for an unforgettable adventure, Ximuwu is the perfect choice. With game drives, bush walks, and unforgettable meals, you'll have the chance to experience the beauty of the African bush like never before. Book your all-inclusive package today and get ready for the adventure of a lifetime. Ximuwu is the only commercial lodge on a 6500 hectare traverse prime bush veld, so you can be sure that exclusivity and privateness are guaranteed.
social media
The Latest from Instagram